Trochalitou, Lina


Isminis 26

Politia
14 671
Nea Erithrea

+ 30 6936-562868

linasorog <at> hotmail.com
On January, 24th, 2016 Lina wrote:

Thank you Peter . Have a wonderful meeting ! best regards Lina Trochalitou Soroga (pray for us in Greece)
On 15th October, 2011 Lina Trochalitou (blond, not grey, curl) writes:

Dear friends,

How wonderful it is and refreshing to hear from you after all these years! What a clever idea to continue our friendship through GEAR Plus! It is true that I keep the best memories of our conventions in Europe which some of those I used for inspiration lately to the point of writing novels!
Since I moved to the suburbs, in Ekali (Kifisia), 30 km north of Athens centre, surrounded by trees, early-retired from ERT - good Lord I did it on time- with the ugly scenery we experience those days in Greece - I keep busy in writing short stories and novels, a dream back to my youth which came true after my retirement.
As well, I am involved with the Mayors office in Kifissia, as a member of the board -I was a candidate for the municipality of Kifissia elections last year- and I organize cultural events like inviting famous authors to present their work in front of the public. (Vassilis Vasilikos, Thanassis Valtinos,Maro Douka, Dinos Siotis, etc). By all means, it is another meaningful way to communicate with the public, besides calculating numbers of TV viewing habits. Last year as well, I published a media book about Public TV

"Strategies of TV Programming For Public TV", edited by Papazissis.
It is a reference book for students at Athens University of Media Studies. The Greek title is
"Afougrasou to kino,I tehni mias ousiastikis epikinonias, Odigos stratigikis gia tin dimosia tileorasi" which translates to :
"Listen to your audience - The art of effective communication. A guide to strategy public service TV."
At present, I am seeking for a publisher for my second book, with 18 short stories.
As far as the financial and political situation in Greece, things are tight and ugly nowadays. Please consider that we are not the only ones with financial problems and I am sure in the near future other countries will face the same problems. We need better negotiations, political stability, and planned long term opportunities for growth and development (agriculture, tourism, bio-energy factors, exports etc). Regarding ERT's future, government is planning very soon to close ET1 -the cultural channel- and the ERT s TV magazine "Radiotiteorasi". By consequence, a large number of people will be fired again. I will be glad to know what is your personal opinion.

I wish you a peaceful and fruitful life!

Friendly greetings
Lina Trochalitou-Soroga
24th January, 2008

Dear Peter,

sorry for the late reply but I am terribly busy doing some work with a TV production book. What I am doing exactly is translations from English to Greek for media books. I am also working in preparing "? Programming Strategy Book For Public TV", where I use all my knowledge about programming, research, news etc. Anyhow, I am doing well with the rest of my life, doing also "applying art" as a hobby, doing sculptures, jewelry, batic etc. which I enjoy much. My daughter is 19 years old and studies athletic management at Sparta University. She is a pro in a lot of things, including singing, politics, sports, publishing and editing the university newspaper which she actually started. Next year she is prepared to continue in Paris as an exchange student in athletics. My husband is a university professor in media and he is involved with the Greek-American Union doing P.R. He is working hard and long hours. I will send you pictures as soon as I will get some recent ones. When you are in Greece, give me a call: 6936 562868. We can get together with your family. I live in Ekali, a nice subarbian town north of Athens. If you know to suggest any books about programming strategy for public TV in Europe, I will love to read them as reference.

Many regards. Life is still beautiful !!
Lina Trochalitou-Soroga


24th January, 2008

Dear Peter,

sorry for the late reply but I am terribly busy doing some work with a TV production book. What I am doing exactly is translations from English to Greek for media books. I am also working in preparing "? Programming Strategy Book For Public TV", where I use all my knowledge about programming, research, news etc. Anyhow, I am doing well with the rest of my life, doing also "applying art" as a hobby, doing sculptures, jewelry, batic etc. which I enjoy much. My daughter is 19 years old and studies athletic management at Sparta University. She is a pro in a lot of things, including singing, politics, sports, publishing and editing the university newspaper which she actually started. Next year she is prepared to continue in Paris as an exchange student in athletics. My husband is a university professor in media and he is involved with the Greek-American Union doing P.R. He is working hard and long hours. I will send you pictures as soon as I will get some recent ones. When you are in Greece, give me a call: 6936 562868. We can get together with your family. I live in Ekali, a nice subarbian town north of Athens. If you know to suggest any books about programming strategy for public TV in Europe, I will love to read them as reference.

Many regards. Life is still beautiful !!
Lina Trochalitou-Soroga


Dear Gear colleagues, 14 of May 2003

It was a privilege, honour, and pleasure to be a member of GEAR for 8 years.
I have learned and gained a huge knowledge from the forums that I participated
these past years and exchanged information with all of you from every part of the world.

I will also miss your friendship and the wonderful time we passed together at the meetings.
I will leave in a month for an early retirement from ERT, but I will continue to work in
TV audience research projects with Athens University of Communications.

In ERT, the persons to contact for audience figures are Ms Georgia Fourlari or Giorgos Triandafylidis:
tel 210-7780-508, e-mail gtriant@ert.gr and fourlar@ert.gr

I would like to thank you all of you of the bottom of my heart for this great experience
and I would like to believe that we will meet again somewhere in the future.
Please do not hesitate to contact me if you visit Greece in order to meet.
My telephone at home is +30-210-7239-151, my mobile phone is 6936-562868 and my new
e-mail is Elisa@oneway.gr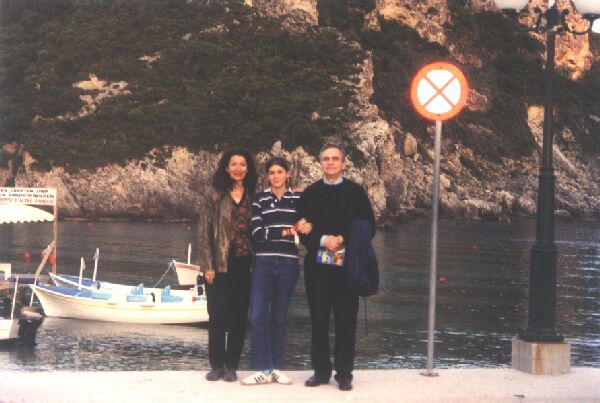 Kind regards and best wishes to all of you in your professional and family lives