Dear Colleagues,



This page is reserved for Christmas wishes combined with an annual update for 2012.



Please submit your Seasons's Greetings to all present GEARplus members as usual in the form of an e-mail.
The contents of all mails will be listed here as a comprehensive document. Here are the GEARplus addresses as far as available to me:



Gerhard.H@zdf.de; vgo@rtbf.be; vaclav.hradecky@cro.cz; kristina.taberyova@czech-tv.cz; lath@dr.dk; erja.ruohomaa@yle.fi; r.festa@francetv.fr; marie-dominique.chevreux@radiofrance.com; m.periot-sanehy@france2.fr; mueller@ard-werbung.de; Gareth.Ivory@rte.ie; a.Madonna@rai.it; yurov@ortv.ru; char@mail.ru; mediakomitet@mail.ru; margareta.cronholm@gmail.com; manuel.daehler@mediapulse.ch; shulzycki@ebu.ch; stalvik@ebu.ch; peter.menneer@btinternet.com; bekkers@nicam.cc; fahyconsult@eircom.net; gmytton@gn.apc.org; pam_hanley@hotmail.com; bob@towlertoynbee.fsnet.co.uk; et@rtbf.be; saha@rtbf.be; joseramonrubio@yahoo.com; linasorog@hotmail.com; type@bluewin.ch; jacques.durand1@orange.fr;heikki.kasari@saunalahti.fi; sigrid.svitek@orf.at; daniel.poesmans@skynet.be; a.sharikov@mail.ru;dkyselova@chello.sk;erinor@live.dk;antonyfahy@eircom.net




To my great and sad surprise it was not a Christmas message that came in first, but it was this mail which reached me on December 2nd:




Hello,


my name is Karin Höijer and my father, Björn Höijer, was chairman of GEAR in the beginning of the 1980's. I don't know if you ever met him, but the reason I am contacting you is to let old research colleagues know that my father has passed away. I saw online that you have an informal GEARplus-group and perhaps there is someone in this group who remembers my father and would appreciate hearing these sad news?
I had the pleasure as a child to travel with my father to the conferences in Ivalo and Cambridge and I also remember the conference in Stockholm. These were unforgettable experiences for me, but I was so young that it is hard for me now to remember who the other nice researchers were that I met.

Kind regards,
Karin Höijer
Uppsala, Sweden


--------------------------------------------------------------------------------------------


Peter Meneer writes on Dec 3rd, 2012:


Karin, I too was present in Ivalo and Cambridge and remember you well - as a young person, even younger than you are now. For Ivalo I was the newly appointed BBC member for the UK, and for Cambridge was the co-host. Didn't we all have a good - but very different - time at each?
Time marches on.................... and now I am retired too. But we Oldies, as you see, manage to keep in touch - not least with Margareta Cronholm whom I am sure you know well.
I remember your distinguished Father well of course too, and send you my condolences.

As proof of my brain cells working slightly better than usual, you and your parents did a trip by car round the top of Sweden/Norway immediately after (or before) the Ivalo conference. I was very impressed at your adventurous family plans. Visions of your getting stuck in snow drifts, thousands of kms from any human habitation......................
All the best to you, 33 years later
Peter Menneer
-------------------------------------------------------------------------------

Michael Type writes on Dec 3rd, 2012:
Dear Friends,




As requested by Peter Diem, it is a pleasure to send you warmest greetings for this Christmas and the forthcoming year which I hope will see some improvement on 2012, although I am not too optimistic with regard to the latter. The idiots who run our respective countries and the overpaid bureaucrats of the European Union in Brussels just don't see to wish to bite the bullet and bring some sanity to the financial situation. I feel privileged to live here in Switzerland where the authorities have managed to keep the economy on an even keel for the time being. One of the good things about 2012 was the most enjoyable reunion in Hilversum of Gearplus members which was so well organized by Wim Bekkers and his team. It was a real pleasure to see friends again and to catch up on their news. Roll on the next reunion planned for Switzerland.

The past year was a busy one for me as Chairman of the British Residents' Association of Switzerland. There are some 40,000 Britons in the country and the Association does its best to keep them in touch socially with events and to provide useful information about living here. As 2012 marked the 60th Anniversary of Queen Elizabeth II's Diamond Jubilee, I organized a charity concert at Geneva's famed Victoria Hall which featured a 150 strong choir, a band in the British Brass Band style, Scottish Pipes and Drums and the Hall's magnificent organ. There was an audience of over 1,500 people and we succeeded in raising CHF 53,000 for British charities in Switzerland. On a more personal note, we had a great family reunion in August with my son Nicholas and his wife and two children coming from the USA and daughter Christina and husband and two children coming from Denmark. The son of my former wife also joined us so we were 11 packed into the house for two weeks. Fortunately, the weather was splendid and we were able to eat outdoors most of the time and to make some enjoyable excursions in Switzerland and neighbouring France.

The one sad thing about the past year was the number of family members and friends who are no longer with us – some 14 in total which is perhaps an indication that we are all ageing but let's remain optimistic and hope that there are still good years ahead. And on that note, I wish you all the very best for the future.

Michael Type ------------------------------------------------------------------------------------------------------


Peter Menneer wrote on Dec 4th, 2012:

Dear Friends,
Trust Michael to be first off the block. Well done, Michael. And well done, Peter, for stimulating us into action. I am probably not alone amongst our GEARplus community in being closer now to 100 than 50. In that spirit I have just stood down after 3 years as chairman of a local chamber choir. Time for someone else to take over. [She is a family doctor.] Have a look at www.thephoenixsingers.co.uk.
......... But still continue as a trustee of a fund raising organisation set up to obtain financial security for the choir at the Chapel Royal at Hampton Court Palace, 15km outside London. If you find yourself in London, do pay a visit. [Trains every half hour - out of Waterloo Station.] We have set ourselves a target of creating an endowment fund of £1.5m. We are now halfway there: www.chapelroyal.org/choralfoundation.
.........And still chair a local committee of volunteers who look after a 16th century community building in our village that is used for private parties, art exhibitions, meetings of local societies and the like: www.churchhousecrowcombe.org.uk.
Valori approves of these non-domestic activities, I think. Keeps me out of (some) mischief.
Happy Christmas to everyone.

Peter Menneer

Stable Cottage
Crowcombe
Taunton TA4 4AA
Somerset
UK

Tel: +44 (0)1984 618263

-------------------------------------------------------------------



J. R. Rubio wrote on 4th Dec.:




Dear former colleagues, everlasting friends:
Merry Christmas and happy New Year!
This time without tricks nor electronics gimmicks, but with my warmest affection.
-José Ramón Rubio. Madrid, Spain

----------------------------------------------------------------


Margareta wrote on 8th Dec.:




Dear colleagues in GEAR and Karin Hoijer,

For many years Bjorn Hoijer was head of the department, SR PUB, where I my self ended as the last head. So Bjorn was my predecessor also in GEAR and before us two there was just Ola Melén, one of the GEAR founders. I know the Bjorn appreciated the work in the GEAR-group and for many years he was inspired by the colleagues there in the daily work with the rest of us. He was always very keen on the meetings I remember how proudly he hosted GEAR in Stockholm 1984. The next year he was taken ill and sent me as his personal representative to Barcelona. There I could see for myself why he was so fond of the group!


Like Karin Hoijer I also remember the Ivalo meeting very well. I was recently appointed head of all our interviewers and there was a large media strike going on in Sweden. We used the interviewers to get an idea of how people spent the extra time the black TV screen gave them and the results were presented to the GEAR group in Ivalo. We worked like hell to get it all ready in time for the trip. This was more than 30 years ago and not even telefax was in common use at that time and computers were still run by "men in white".


I had wished to talk to Bjorn about the re-union we had in May this year. It was 20 years after start of the demounting process of SR PUB in 1993. Staff from all decades between the 1940ies to 1990ies met for dinner and loud discussions. The founder of the department, Rune Sjodén soon celebrating his 90ies birthday, came and told us all how the department was started up just at the end of Second World War in collaboration with the University of Uppsala. Rune was prehistoric in GEAR-terms as he left the department already in 1965.


I think within GEAR we can remember Bjorn Hoijer with warmth. I know he was more comfortable with his colleagues there than with the sometimes divergent and strong wills pushing him back at the office in Stockholm.


Margareta Cronholm

-------------------------


To all former and current GEAR members: Dear friends and colleagues, I wish a Merry Christmas and a wonderful year 2013!
Kind regards
Heinz
----------------------


From Kristina: Click on the image!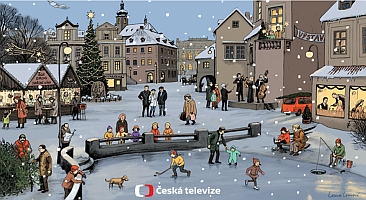 Margareta wrote on 19th December:




Dear active and former colleagues in GEAR,
After almost one year as retired I can tell you that there is not much more time "on the other side of the fence" but there is a lot of fun to be engaged in! I have still some contact with the PSB but also work with local history in different projects – messages on rune stones, agricultural projects in the urban environment and early industry producing gas and electricity in the city center are three perspectives that interest me a lot and engage me even more at the moment.
I wish you all a Merry Christmas and a Happy New Year!

Margareta Cronholm


and Michael:


Dear Peter,




Nice to get your news as well. Excellent photos: the Massada one reminds me of a visit I made there with the EBU Statistical Group some years ago. At the foot of the mountain there were reproduction of Roman siege machines built for the Hollywood film about Massada. I wonder if they are still there.

Our beloved poodle, Milkshake, went to doggy heaven two weeks ago, leaving us feeling very, very sad. The only good thing is that we can now travel more extensively and may well get to Vienna in 2013. We'll let you know well in advance if we decide to come as Pammi has never been there.
A Merry Christmas and a Happy New Year,
Michael

------------------------


Dear Colleagues,
for me 2012 was a successful year. After having left Online Research with GfK Austria after almost 12 years I occupied myself writing the biography of a famous senior politician - Leopold Guggenberger (94) -who was mayor of Klagenfurt for 24 continuous years. I made a trip to Israel and two trips to Greece, where I will also spend my Christmas vacation with the family of my wife Eva. And of course there was GEARplus in Hilversum at the end of March! As far as I can see, I do not have special plans for next year except a trip to Oman in February and a lecture in Moscow in April. Whoever wants to come to Vienna - please let me know well beforehand. I would love to have many of you here as visitors. In the meantime do not forget to let us know about what you are doing and how life is with you.


Hopefully there will be a GEARplus reunion again in 2014 - arranged by Mathias Steinmann.




With my best wishes for a healthy and prosperous Year 20122

yours as ever
Peter Diem


------------------

Daniel Poesmans sent this inspiring photograph: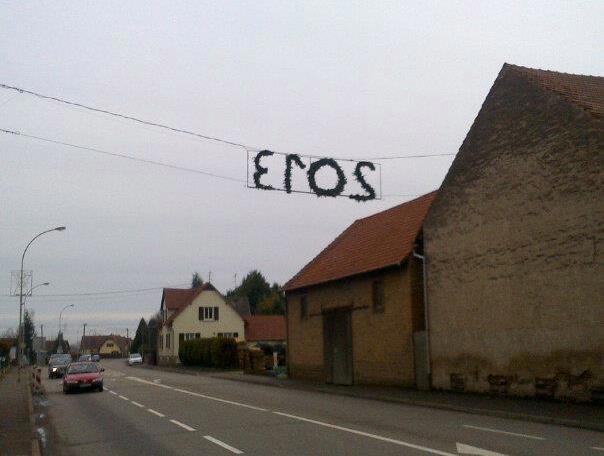 -----------------------------------

Dear Tony and friends,

The New Year 2013 has come.




I wish to everybody all the best, new impressions, new achievements, new friends.


And health, of course.





Long live the GEAR and the GEAR plus brotherhood!



Alexander Sharikov

-------------------------------


Dear All

Thanks for all your best wishes for happiness in 2013.

If all the wishes we received became true, then we would be super happy. However, too much of something, even if it's very good can become boring and is unrealistic concerning happiness.
So, I wish all of you an interesting year with some downs and ups again, with surprises, with new experiences and life contents, but mainly health and fitness until the end of 2013.
Personally I have walked the Via Francigena to Rome and shorter walks to different destinations, flew as the years before, bothered my family as usual and built up my Steinmann Foundation (www.schloss-wyl.ch).
I hope this year I will still have enough energy to walk the reversed St. James Way from Switzerland to Vienna and again with my wife from Berne to St. Moritz, as we did before our marriage.


I hope that then I will still be fit enough to invite you all to Schloss Wyl in Spring 2014.

Kindest regards,
Matthias